Visit us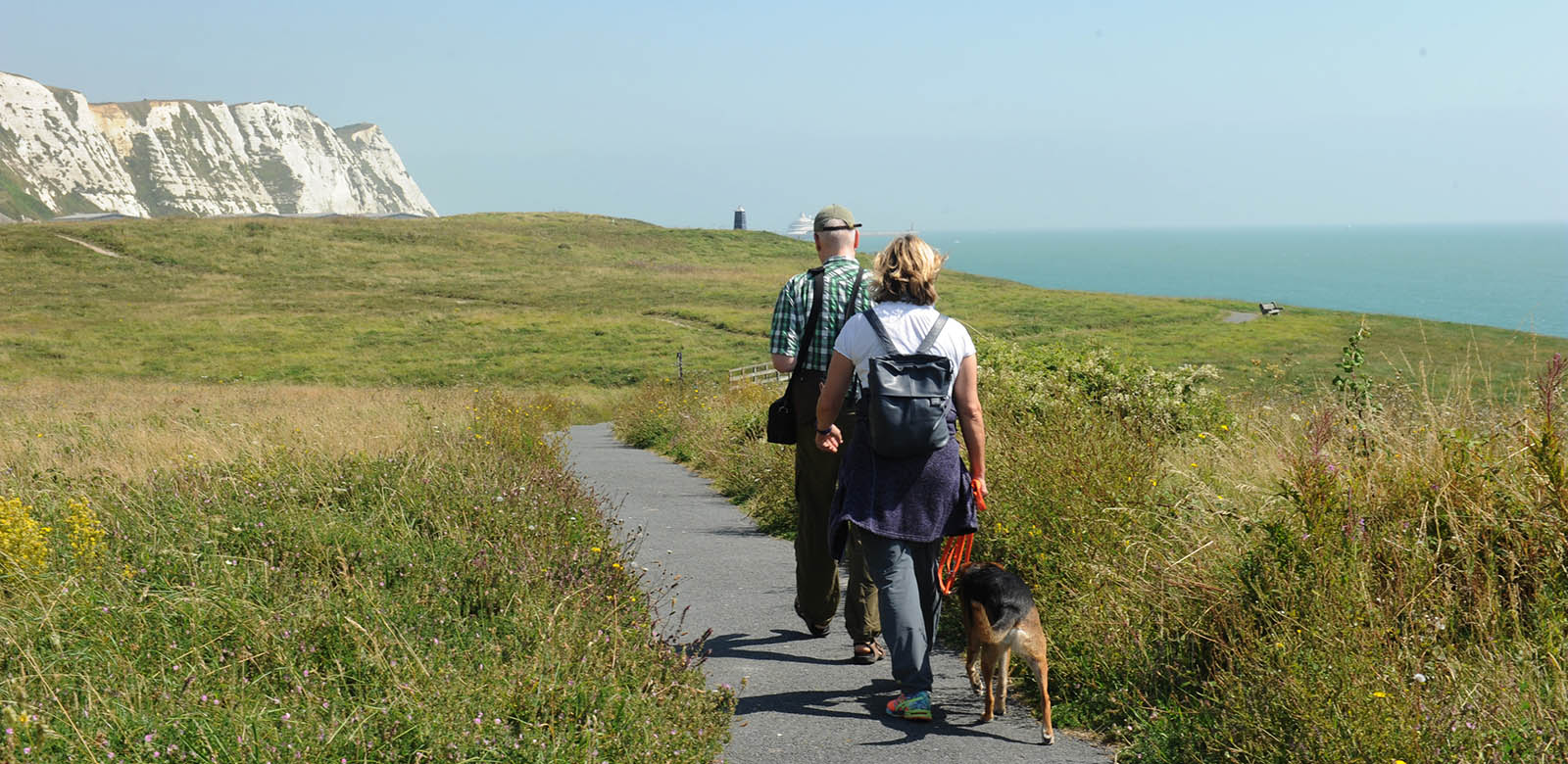 Welcome to Samphire Hoe
Discover fascinating wildlife, rare plants, spectacular landscapes of the White Cliffs and stunning views over the English Channel.
Samphire Hoe, the nature reserve of Eurotunnel located between Folkestone and Dover in Kent, is a place for both wildlife to thrive and people to enjoy. To maintain the balance between the two, we ask that people stay on the paths, keep dogs on leads and scoop the poop.
Important information
Samphire Hoe is open from 7 a.m. until dusk with last entry at 7 p.m.. In the interest of the protection and comfort of both the public and staff, please:
Follow the Government's national restrictions
Respect social distancing
Comply with hygiene measures
Stay alert
Be aware that the site could be very busy.
Access
Access by car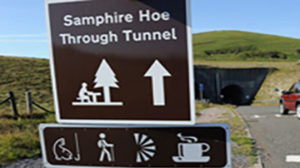 Samphire Hoe is off the Dover to Folkestone carriageway of the A20 and signposted. You access Samphire Hoe through a traffic light controlled tunnel in the cliff. The access tunnel is 4.8m tall.
Samphire Hoe postcode: CT17 9FL
Access on foot or by bicycle
The cliff top footpath (North Downs Way) and a cycle track (Sustrans NCN Route 2) pass close to the tunnel entrance providing easy access to Samphire Hoe.
Access by bus
Bus 61 to Aycliffe, then on foot.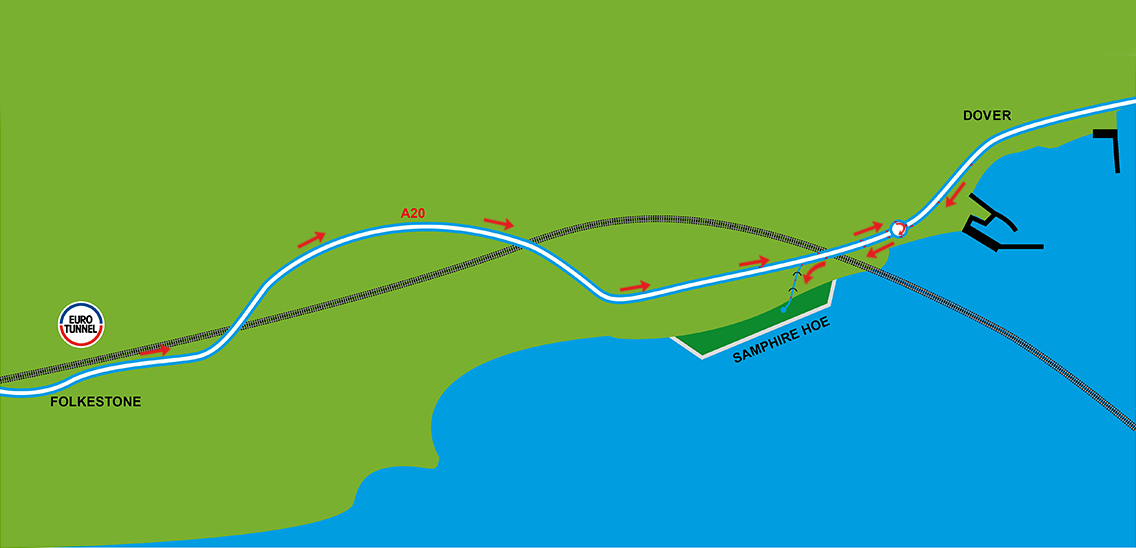 Opening times
Samphire Hoe is open from 7:00 a.m. until dusk with last entry at 7:00 p.m..
Car park
There is plenty of car park spaces, on a pay and display basis.
In May 2020, current rates for cars are: up to 30 mins 50p; 30 mins-2 hours £1.00; Over 2 hours £2.00.
And for coaches: £2.00
Disabled badge holders and motorcycles are free.
Motorhomes (4.8m tall max) are allowed to park during opening times but there is no overnight parking.
Wheelchair and pushchair access
Samphire Hoe is wheelchair and pushchair friendly. There are toilet facilities including those for the disabled (RADAR key) and a baby changing room.
There is a recommended 'access for all' way around the Hoe. The route follows the front path, signposted "West shore via the Hoe" passing through the chicane. The full circuit is 2km long. The section through the Hoe is tarmac; the sea wall is smooth concrete with two ramps giving access to and from the middle terrace providing good sea views. The average gradient is 1:15 with some steeper sections and occasional cross slopes maximum 1:25.
Dogs
At Samphire Hoe, dogs are allowed but must be kept on a lead at all times and any poo picked up.
Tea kiosk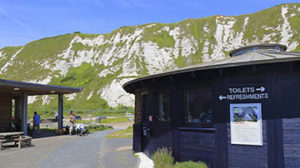 The site office provides toilet facilities, rangers office and a tea kiosk, which is open every weekend of the year and most days from Easter to September (but can be weather dependent), from 11:00 a.m. to 5:00 p.m.
Staff and volunteers are present to answer your questions and give you information.
There are free leaflets, an information board and panels with the latest wildlife sightings.
Groups
Guided walks for private groups (10 persons minimum) can be booked.
Please contact 01304 225 649 for details.
Education shelter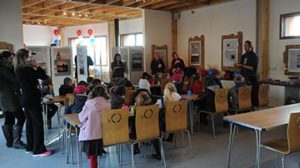 Officially opened in November 2015, the new Samphire Hoe Education Shelter provides a flexible indoor space for general visitors and edutional visits. Heating is provided by two wood burning stoves. There are regular exhibitions and events.
The shelter provides an opportuntity to meet the volunteers rangers and discover more about Samphire Hoe and the surrounding areas.
The Education Shelter teaching room is available for hire.
For more details, please contact: 01304 225649.
School visits
School visits can be arranged and organised.
Learning outside at Samphire Hoe with themes such as:
Samphire Hoe rock pooling – Discover the creatures that live in the fascinating turbulent world of rock pools.
Samphire Hoe Safari – Discover the beach and coastal environments, go on a scavenger hunt, investigate the chalk grassland habitat and its mini beasts, play the food chain game and join in a fossil hunt.
Samphire Hoe Science – Carry out a bug survey, discover the rocks and soils, measure the weather, find out about plant adaptations.
Amazing insect art – Art meets science and history in a fun practical activity using detailed drawings.
Be a stone age artist – Discover the exciting history of cave art during this session which includes mixing pigments and giant chalk and charcoal drawings. Explore the stone age world and how would you survive? There is a chance you could use flint tools and skills.
Around those 5 main themes is provided a practical, engaging and enjoyable learning linked to the school curriculum of students. Each session begins with a key message about water efficiency and promote how vital it is for all life on Earth.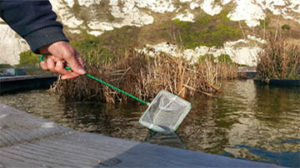 There is also a Pond detectives activity run in partnership with Affinity Water: Students engage in pond dipping to identify the different species they have caught. They learn about the difference between salt and freshwater habitats at Samphire Hoe.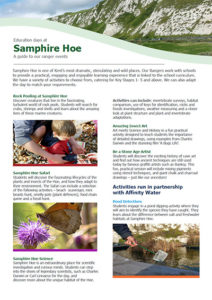 For further information, please check out our new leaflet "Education days at Samphire Hoe, a guide to our ranger events".
School visits for a class cost £113.00 for a morning or afternoon session with a ranger.
To discuss any arrangement and set up a date and to hire the Education Shelter teaching room, please contact us on 01304 225 649.
The addition of the Education Shelter means that educational visits can now also include the offer of a warm indoor space to shelter from the weather. The teaching room can be booked as part of an educational visit.
Fishing / Angling
Permits are available from the tea kiosk.
£4 a day ticket for a child; £6 a day ticket for an adult; £50 for a half year ticket; £75 for a year season ticket.